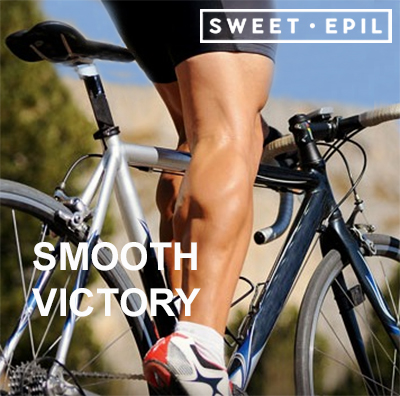 "The modern man's smooth victory over hair." That's what we can call waxing for men at the Sweet Epil studio in short.
You don't have to be preparing for the Tour de France or the Iron Man race to appreciate the benefits of professional hair removal by Sweet Epil. Cycling, football, running, swimming, fitness, tennis, etc. These are just examples of sports (whether professional or recreational) where we commonly see men undergoing waxing on a regular basis.
Why is that so? There are several reasons: more effective cooling of the body during sweating, better possibility of treatment and healing of wounds, less possibility of infection, easier and more pleasant massage, better performance, etc. The aesthetic point of view is no less important. Today, modern men (and women) mostly prefer smooth, hair-free skin both on themselves and on their partners.
We perform waxing in a gentle way using a special sugar paste with Aloe Vera, which is also suitable for very sensitive skin. (Hairs should be at least 0.5 cm long, which means that you should not shave them for about 10 days before waxing. After waxing, the skin will remain hairless for 4-6 weeks).
BOOK your appointment ONLINE: BOOK NOW